Property Management
Bennett & Hall has an extensive property management department dedicated to competence and efficiency in every aspect of residential lettings.
Good management guarantees residential investment is successful. Bennett & Hall's straightforward and practical approach ensure that we deliver satisfaction.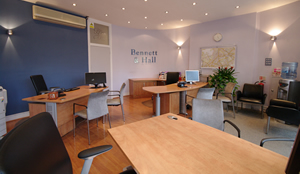 With many years of experience, dealing with both corporate and private clients, we manage a diverse range of property types throughout North London. This has helped enrich our understanding of the best way to maximise rent, reduce void periods and control expenditure, whilst ensuring that legal and compliance issues are dealt with.
In an increasingly sophisticated marketplace, we never lose sight of the fundamentals. We are not prescriptive. We take the time to understand clients' requirements and adapt our service accordingly. Our team is totally focused on providing customer service to both clients and tenants whilst our 'hands on' approach ensures all vital jobs are undertaken.
Bennett & Hall can lead you through the minefield of a landlord's obligations:
Expert advice in every aspect of legislation, both current and forthcoming relating to the Housing Act, Safety and Fire Regulations.
Annual inspections of central heating systems by Gas Safe approved engineer.
Detailed inventory and optional property inspection undertaken.
Experienced and reliable team or trades on call for maintenance and repair.
A dedicated Accounts Department operating a bespoke computerised management system.
Members of Tenancy Deposit Scheme.
Advice re Inland Revenue's schemes for non-resident landlords and UK landlords.
NAEA Client's Money Scheme.
Insurance
Do you need help arranging better or lower cost buildings and contents insurance for your let properties? If so, we work with MARAS; they have 20 years of experience in this industry and as a part of Towergate, Europe's largest independently owned insurance intermediary they will ensure you receive the best quote for your needs.
To find out more just call MARAS on 0845 5005 222 and select option 2 to speak to our dedicated Insurance Team or click the link below to get your free no obligation online quote: